Leap of Faith is the first puzzle you encounter in Antichamber.
The initial screen shows two surfaces separated by a large chasm with a large hovering word "Jump". The sign serves to will the player to jump, hoping to somehow make it across. Instead of success, the player will fall to either A Jump Too Far or Into Darkness. The second time the player goes to this puzzle, the sign will change to "Walk?", which indicates how to get across.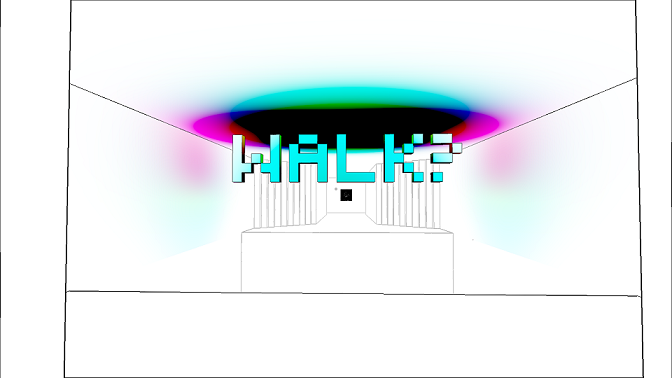 If the player chooses to walk across, a bridge will appear underneath them as they walk, allowing them to cross the chasm. Directly ahead there is the first Sign. From there there will be a choice between left and right, turning right will lead into what appears to be a dead end. However, if the player simply walks into the wall it will disappear, leading to the puzzle Cry Me A River. If the player turns left, they will reach another intersection. Turning right will lead to the puzzle Taking Baby Steps and left will lead to a dead end. However care must be taken when turning the corner because walking in the middle will cause the floor to collapse, leading to the puzzle Impossible Paths.
If the player Turns away from the chasm, they will see an eye drawn on the wall. Staring at this from close up will cause it to blink, removing the wall. (There is a hint for this: if you walk to the eye and look up at the ceiling, you will see an arrow pointing in the direction of the eye.)
If the player ascends the tower towards the arrow-outline, they can reach The Highest Point.
If the player jumps from the first platform rather than attempting to walk over it them will fall down the cavern to the start of the puzzle Into Darkness. There is also a ledge halfway that can be landed on with some planning, leading to the puzzle Three Paths In Sight.
Walkthrough
Edit
This video show all possible paths in Leap of Faith.
This one includes Pink Cubes:
There is no "wrong" answer to this puzzle, every path leads to progress. It serves to get the player used to the strange world of Antichamber, where things are not as they seem.