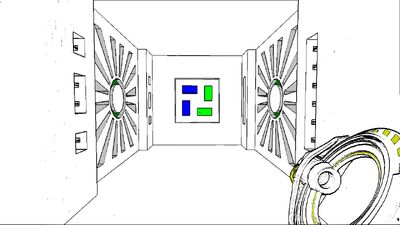 Managing Resources is a logic puzzle that involves utilising the new abilities the Green Matter Gun provides.
The puzzle contains two doors and eight Cubes. The first door has eight Cube Detectors and the second door has twelve. The most obvious solution, simply taking the cubes and placing them will result in the player only being able to open the first door.
To be able to open the second the player must use the eight cubes to create a hollow 3x3 square with the Green Matter Gun or better. When the square is create the closed loop behaviour activates and the middle of the square is created and filled in with a new cube. The middle cube and one of the outside cubes can be taken out. When the outside cubes is replace the closed loop behaviour will occur another time. The door can be opened once enough cubes have been generated.